US NEWS
Watching The Fall Of Mystery Babylon
03/05/15
US & WORLD ECONOMY
The European Union is concerned that Russia might want to enforce its old gas contract with Ukraine once their current arrangement runs out, saying it could contravene Moscow's peace obligations.
The euro zone economy is sprouting more green shoots than anticipated just as the European Central Bank fires up a money printing program worth more than 1 trillion euros.
When I arrived to Bangkok the other day, coming down the motorway from the airport I saw a huge billboard—and it floored me. The billboard was from the Bank of China. It said: "RMB: New Choice; The World Currency". Given that the Bank of China is more than 70% owned by the government of the People's Republic of China, I find this very significant. It means that China is literally advertising its currency overseas, and it's making sure that everyone landing at one of the world's busiest airports sees it. They know that the future belongs to them and they're flaunting it.
Must be the weather... since August. US Manufacturers New Orders tumbled 0.2% in January (missing expectations of a 0.2% rise for the 6th of the last 7 months). This extends the losing streak for factory orders to 6 months, something we have not seen since the great recession in 2008... The drop was led by a plunge in Consumer Goods - not exactly what one would expect from all those gas savings? Just add it to the growing list of missed macro data expectations since the start of Feb!
Korea's SMART nuclear reactor appealed to the Saudi government whose major concern is always about water supplies. With the ability to mininize costs and maximize efficiency, it is probable that south Korean companies will win a US$2 billion project to build two mid-sized commercial nuclear reactors in Saudi Arabia. It will be the first time for both countries to commercialize a SMART reactor in the Middle East.
WASHINGTON
Iran's foreign minister said in a U.S. television interview on Wednesday he believed "we are very close" to a nuclear arms deal with six major world powers, but cautioned there were details that needed to be worked out. "We are prepared to work round the clock in order to reach an agreement," Mohammad Javad Zarif told NBC News in an interview excerpt released by the network.
The rush to action comes after Netanyahu urged lawmakers to reject what he called the "very bad deal" under negotiation. Concurrently, thousands of members of the pro-Israel lobby American Israel Public Affairs Committee visited congressional offices during the last day of the organization's annual policy summit. The White House has promised to veto the Corker bill, which has been endorsed by five Democrats and an independent. "The president has been clear that now is not the time for Congress to pass additional legislation on Iran," National Security Council spokeswoman Bernadette Meehan told Al-Monitor. "If this bill is sent to the President, he will veto it. We are in the final weeks of an international negotiation. We should give our negotiators the best chance of success, rather than complicating their efforts." Israeli Prime Minister Benjamin Netanyahu addresses a joint meeting of Congress at the U.S. Capitol on March 3, 2015, in Washington, D.C. And resident Barack Obama lost no time March 3 dismissing Netanyahu's speech as same old, same old.
Publicly the U.S. and Israel have been clashing over Iran's nuclear program, but quietly Israelis have been making another appeal: getting more U.S. funds for missile defense systems to defend against Iran's growing ballistic missile program.
Kerry was due to leave the Iran talks in the Swiss resort town of Montreux and fly to Riyadh where he will see the new Saudi monarch, King Salman, and meet separately with the foreign ministers of the members of the Gulf Cooperation Council: Bahrain, Kuwait, Oman, Qatar, Saudi Arabia and the United Arab Emirates. The Sunni-ruled Gulf states, like Israel, are unnerved by Shiite Iran's suspected pursuit of nuclear weapons and its increasing assertiveness throughout the region. U.S. officials say Kerry will reassure them that a deal with Tehran will not allow Iran to get the bomb and won't mean American complacency on broader security matters.
Edward Snowden, the fugitive former U.S. spy agency contractor who leaked details of mass U.S. surveillance programs, said on Wednesday he is not being offered a fair trial if he returns to the United States. "I would love to go back and face a fair trial, but unfortunately ... there is no fair trial available, on offer right now," he said from Russia in a live question and answer discussion organized by Canadian Journalists for Free Expression, Toronto's Ryerson University and the Canadian Broadcasting Corp.
NWO GLOBAL GOVERNMENT, ISLAM & SHARIA
Ilias Iliopoulos, a Greek defense analyst, asks who stands to benefit from the killing of Boris Nemtsov, noting that it isn't the Russian government.
Cops in Florida burst into a house rented by three twenty-something friends this week and immediately shot one of them dead, according to accounts, despite the fact he was unarmed and non-threatening. Twenty six-year-old Derek Cruice was shot in the face and killed during the botched raid in Deltona. His shocked friends say he did nothing wrong, and described the act as "murder".
NATURAL & MANMADE DISASTERS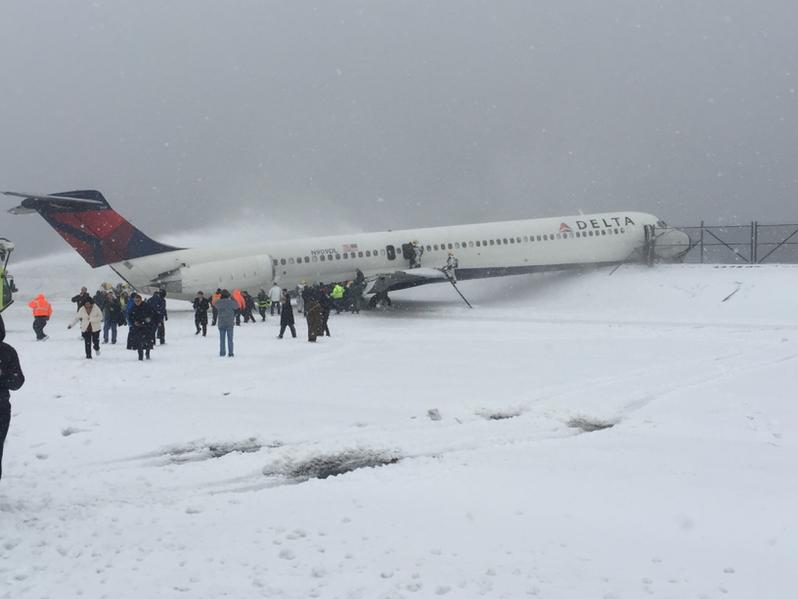 Delta Flight 1086 was coming in from Atlanta when it went off Runway 13 just after 11 a.m. Thursday, the FAA said. Photos from the scene showed the aircraft sitting in the snow with its nose appearing to touch a fence.
BIOLOGICAL WARFARE
Texas currently has 10 new bills in the House and Senate dealing with vaccinations. Four of these bills take away your privacy and lead to a future where people who don't inject themselves with toxic chemicals and live viruses will be singled out in an anti-vaxxer blacklists.
WORLD & MIDDLE EAST
Watching The Nations Amass Against Israel
03/05/15
IN ISRAEL
Minutes after the last standing ovation in Congress subsided, Israel's politicians were trying to grab back the narrative of a local election campaign that had been hijacked by Prime Minister Benjamin Netanyahu, 9,500 kilometers away in Washington, D.C. "The painful truth is that behind the applause, Netanyahu remains alone," said Herzog. "Israel remains isolated and the talks with Iran continue without any Israeli involvement." He was right, but the lingering impression was of a lonely and forlorn Herzog.
Two senior officials of the Islamic Movement have announced that it is their intention to bring in thousands of Muslims from the north to Jerusalem during the Passover holiday on the pretext of a "shopping holiday", then herding them to the Temple Mount so that they can "protect the site from being taken over by the Jews."
Just in time for Purim, the Jewish holiday celebrating the redemption of the Jewish people from plots of genocide in ancient Persia, Iranian Supreme Leader Ayatollah Ali Khamenei was reportedly hospitalized in critical condition on Wednesday. Haman got a quicker death than this man, if he is indeed dying. But if he is dying, it could spark serious trouble in Iran over his successor.
'We hope Hamas won't steal the water as it stole the building materials,' army administrator says.
A ship filled with dozens of rockets allegedly supplied by Iran was raided Wednesday in the Red Sea by the Israeli navy. Military spokesman Lt. Col. Peter Lerner told reporters that Syrian-made M-302 rockets sent from Iran were on board. Each rocket has a range of up to 100 miles.
WARS & RUMORS THEREOF
Obama's plans for Iran, which were spectacularly challenged by Binyamin Netanyahu in his Congress speech Tuesday, March 3, weres manifested 10,000 kilometers from Washington in the firestorm over Tikrit, the important Sunni town north of Baghdad. There, Iranian-led Iraqi troops are on the offensive against the Islamic State in the biggest ground battle fought in Iraq since the Iraqi army fell apart and scattered last June against the conquering Islamist march through western and central Iraq. For four reasons, this battle is loaded with ramifications for Obama's Iran policy and the Islamic Republic's drive for recognition as the leading Middle East power:
Kurdish forces in Syria say deepening military coordination with the United States and its allies has helped them make rapid advances against Islamic State in an offensive under way in the northeast near the border with Iraq.
Forces from Libya´s internationally recognised government carried out air strikes on a Tripoli airport after unidentified warplanes attacked one of its allied towns, in escalating violence a day before United Nations peace talks. Libya is caught in fighting between two rival governments, their local allies and their armed forces. All are battling for control, four years after a civil war ousted Muammar Gaddafi, and the conflict is steadily tipping the North African state into chaos.
US / RUSSIA WAR
The 300 US Army military personnel deployed to Ukraine to conduct a joint training mission with the Ukrainian army at a peacekeeping center near Lviv from March 5 until October 21 have already arrived, Russian Ministry of Foreign Affairs representative Aleksandr Lukashevich announced on Thursday.
TERRORISM
Mark Lippert, the U.S. ambassador to South Korea, was slashed in the face by a Korean nationalist but was not seriously hurt during an attack at a breakfast forum today in the capital to discuss Korean reunification, police and witnesses said. The assailant was caught by police and identified as 55-year-old Kim Ki-jong. Witnesses and police said he used a small fruit knife in the attack.