US NEWS
Watching The Fall Of Mystery Babylon
01/03/16
US & WORLD ECONOMY
The latest in a string of downbeat reports from showed that activity at China's factor ies cooled in December for the fifth month running, as overseas demand for Chinese goods continued to fall. Against the backdrop of a faltering global economy, turmoil in the country's stock markets and overcapacity in factories, Chinese economic growth has slowed markedly. The country's central bank expects growth in 2015 to be the slowest for a quarter of a century.
What's The Cure For A Failing Economy? War!
American companies risk missing out on a "gold rush" in Iran if sanctions are lifted as expected next year under the controversial nuclear deal, experts have warned. Companies from Asia and Europe are already flocking to do business in the emerging economy, which is set to come in from the cold should Tehran meet its obligations to not pursue a nuclear weapon.
The latest step taken was by Russia, which confirmed in a statement on its Ministry of Finance website, that it is suing Ukraine for allegedly not paying back $3 billion (£2 billion) worth of debt. This is the latest in a line of tit-for-tat disputes, bans, and lawsuits since the Ukrainian peninsula of Crimea was "reunified" with Russia by way of well equipped, organised, and trained "self-defense units," who were actually Russian special forces, nearly two years ago.
WASHINGTON
The administration had additional diplomatic and technical work to complete before announcing any new sanctions related to the missile program, but the delay was not a result of pressure from Tehran, said deputy national security adviser Ben Rhodes. "We have additional work that needs to be done before we would announce additional designations, but this is not something that we would negotiate with the Iranian government," Rhodes told reporters in Hawaii, where President Barack Obama is on vacation.
IT claims to have more missiles than it can hide. Now Iran is threatening to expand its missile capabilities. The Islamic republic is remaining defiant amid a threat by the US to impose tough new sanctions on its ballistic missile program. A top Iranian official wrote on Friday that Tehran will develop missiles with a range of 5000km — if the US sanctions are imposed.
A member of Congress representing New York is demanding an investigation of the National Security Agency's spying on Congress. And how the Obama administration is involved. "If the latest reports are true, laws were broken and there must be accountability for all responsible," Rep. Lee Zeldin, R-N.Y., a member of the House Foreign Affairs Committee said in a prepared statement.
How many impeachable offenses are needed before Congress does something to Obama? Apparently, the sky's the limit! And it's too late now. His damage is done.
BLM: BABYLONIAN LAND MANAGEMENT
Nevada rancher Cliven Bundy's three sons and "about 150" militiamen have occupied the Malheur National Wildlife Refuge HQ to protest the pending imprisonment of two Oregon ranchers accused of arson, arguing the federal government has no authority in local cases. "We're going to be freeing these lands up, and getting ranchers back to ranching, getting the loggers back to logging, getting the miners back to mining where they could do it under the protection of the people and not be afraid of this tyranny that's been set upon them," Ammon Bundy, who appears to be the leader of the group, said in a Facebook video posted by Sarah Dee Spurlock on Saturday. That's a great idea, but it could be that someone - or many someones - will end up dead before the Babylonian Land Management department backs down.
NWO GLOBAL GOVERNMENT, ISLAM & SHARIA
BABYLON GETS MORE MIGRANTS; DAUGHTER OF BABYLON GETS NEW ISLAMIC POSTAGE STAMP
"The (migrant) flows continue unabated. And on good days, on days when the weather isn't bad, they are increased," Ioannis Mouzalas, Greece's minister responsible for migration issues, told The Associated Press. "This is a problem and shows that Turkey wasn't able - I'm not saying that they didn't want - to respond to the duty and obligation it had undertaken to control the flows and the smugglers from its shores."
YOUR CONGRESS AT WORK AND PLAY
Whereas Muslims are victims of anti-Muslim hate crimes and rhetoric have faced physical, verbal, and emotional abuse because they were Muslim or believed to be Muslim... The House of Representatives expresses its condolences for the victims of anti-Muslim hate crimes... And blah, blah, blah... What I want to know is where is the concern for Christians and Jews that the Muslims are targeting!?
The Institute for Contemporary History in Munich is reprinting the book and selling it in bookstores starting next week, reports CNN. The copyright held for 70 years by the state of Bavaria expired Jan. 1, 70 years after the Nazi leader's death. "To historically unmask this anti-Semitic, dehumanizing polemical pamphlet and to explain the propaganda mechanism through appropriately qualified teachers is a task of modern education," SDP lawmaker Ernst Dieter Rossmann told the German newspaper Handelsblatt.
NATURAL & MANMADE DISASTERS
Since Katrina, "tornadoes, winter storms, wildfires, and flooding have taken IsraAID teams to 10 states across the United States, reaching thousands and helping them with debris removal, all implemented in cooperation with national organizations and local governments.
Drought and heat damage last season cost Washington growers millions, but a full accounting isn't yet available, according to newly released data. In a report released Thursday, the state Department of Agriculture estimates that Central Washington apple growers lost at least $85 million, which is less than 5 percent of the state's $2 billion industry.
A moderate earthquake in the Pacific about 30 miles offshore of far Northern California was felt lightly by some along the coast but brought no reports of damage or injuries.
Residents moved to four reception centres were allowed to go home from 05:00 and engineers were working on a permanent repair, a spokesman said.
Just as predicted gale force winds and rain pelt the country, with snow in the offing and Mt. Hermon in the north already covered in white.
DAYS OF NOAH
The Vatican's first accord with the Palestinians — an agreement that Israel has attacked as counterproductive to the Middle East peace process — has come into force, the Holy See announced Saturday. The accord was signed in June, just over two years after the Roman Catholic Church recognized the Palestinian territories as a sovereign state in February 2013. The accord covers the operation of the Church in areas of the Holy Land under Palestinian control but its significance has been seen in broader terms as a symbol of growing international backing for a Palestinian state.
WORLD & MIDDLE EAST
Watching The Nations Amass Against Israel
01/03/16
IN ISRAEL
For weeks, the slash and stab theme has dominated Palestinian social media. A new one now is emerging: Water the ground "with blood." "Teach children that there is a seed there".
Israeli authorities went house-to-house Saturday in Tel Aviv, searching for the man suspected of killing two people and injuring eight others in a shooting outside a pub. What authorities called "units specializing in locating and neutralizing perpetrators" were on the scene, police said in a statement. "All of our emphasis at this moment in time is finding that suspect and all the different organizations -- security organizations here in Israel -- are working together to find that man," police spokesman Micky Rosenfeld told CNN. Police have identified the suspect as Nasha'at Melhem, 31, an Arab-Israeli who lives in northern Israel.
The attack was condemned by the council of Arara, the suspect's hometown, as well as by the head of the Joint List, which groups parliament's main Arab parties. "I appreciate the condemnations of the crime from the Arab sector; I must say I expect all Arab members of parliament, without exception, to condemn the murder," the premier said. He noted the existence of "enclaves in which there is no law enforcement and in which there is Islamist incitement, rampant crime and illegal weapons that are frequently fired at events such as weddings. This era has ended."
The long-awaited indictment follows months of investigations into a web of Jewish extremists operating in the West Bank. The indictment named Amiram Ben-Uliel, a 21-year-old West Bank settler, as the main suspect in the attack. A minor was charged as an accessory. Yinon Reuveni, 20, and another minor were charged for other violence against Palestinians. All four were charged with belonging to a terrorist organization.
A Salafi terrorist group associated with Islamic State claimed responsibility for the volley of rockets fired at southern Israel on Friday night. "We take responsibility for the rocket bombardment on the Sderot settlement at 11:07 p.m. Friday night. Praised God, we allowed for Jewish blood [to flow] and we turned their night to day. We activated alarms in all of southern occupied Palestine," read a statement allegedly issued by group Ajnad Bayt al-Maqdis.
WARS & RUMORS THEREOF
SAUDI ARABIA DELIBERATELY PROVOKING IRAN?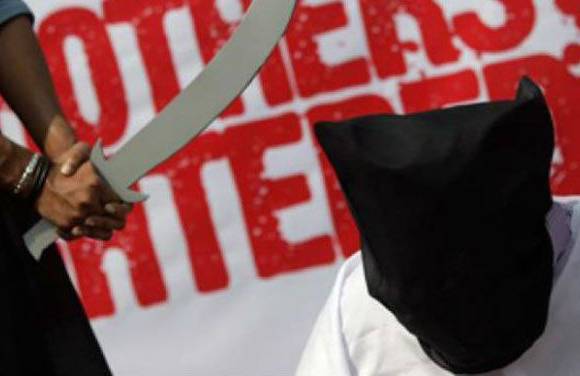 Prominent Shia cleric Nimr Al-Nimr and a leading Al-Qaeda figure Faris Al-Ashuwail were among those executed, the ministry said. Saudis made up the bulk of those executed; 45 terrorists, and the other two were from Chad and Egypt. The men were convicted of plotting and carrying out terrorist attacks targeting civilians and security forces in Saudi Arabia and neighboring countries.
A new appraisal names the United States as one of the threats to Russia's national security for the first time, a sign of how relations with the west have deteriorated in recent years. The document, "About the Strategy of National Security of Russian Federation," was signed by President Vladimir Putin on New Year's Eve. It replaces a 2009 version, endorsed by then- President Dmitry Medvedev, the current prime minister, which mentioned neither the United States not NATO. It says Russia has managed to heighten its role in solving global problems and international conflicts. That heightened role has caused a reaction by the West, it says.
Encircled by land mines and forces from the Lebanese militia Hezbollah, hundreds are suffering from malnutrition. With severe shortages of basic foodstuffs, many have resorted to eating wild plants, insects and even cats.
Nearly 300 Kurdish rebels, members of the Kurdistan Workers' Party (PKK), were killed in raids conducted by the Turkish military in three districts in southeast Turkey, the Turkish General Staff said on Saturday. The military said in a statement on its website that 179 militants were killed in Sirnak province's Cizre district, 27 in Silopi, and 55 in the Sur district of the southeastern province of Diyarbakir province, adding that they had also defused dozens of improvised explosive devices in the three districts, which have been under curfew since December. They also destroyed a school that was allegedly being used by militants for training.
A top security official, who asked not to be named, told AFP that the gunmen were believed to be from the Jaish-e-Mohammed Islamist group, describing them as suicide attackers who breached security at the base in the northern state of Punjab while wearing army uniforms.
TERRORISM
Munich's main station was evacuated just before New Year after authorities received a "very concrete" tip that ISIS militants from Iraq and Syria were planning an attack at midnight, officials said Friday. Intelligence reports warned that between five and seven assailants planned to blow themselves up at locations across the southern city, including two train stations, Joachim Herrmann, interior minister for Germany's Bavaria region, told the press conference Friday according to The Associated Press.